Facilities Guide
Opening Hours
B1F-6F 10:00-20:00 Closed irregularly for the entire building
1F/2F Starbucks Coffee 7:00-22:00
2F Cafe Noriem 11:00-20:00(Last Call 19:30)
7F Roof Garden Restaurant 11:00-21:00(Last Call 19:30)
7F Men Cha 11:00-20:00(Lasta Call 19:00)
8F Banquet 10:00-19:00 * closed at Wed. & Tue.
Maruya Gardens Operation Center  Tel.099-813-8108 Open 9:30-20:00
Parking


・Maruya Gardens Parking Always open *3F connecting passage is directly connected.
・Maruya first parking : Always open
・ Maruya third parking : Always open
・Tie-up parking (Toyoko parking / Izuro New parking) 9:00-20:00

Click here for parking Fee →
ATMs
ATMs are located on the 1F
Opening hours
Kagoshima Bank (Kagoshima Kougyo Shinyou Kumiai)
Weekdays 10:00-20:00 / Sat., Sun. & National holidays 10:00-19:00
Weekdays 10:00-20:00 / Sat., Sun. & National holidays 10:00-19:00
Weekdays 10:00-20:00 / Sat., Sun. & National holidays 10:00-20:00
Japan Post Bank
Weekdays 10:00-20:00 / Sat., Sun. & National holidays 10:00-19:00
Information Counter
There is an Information Counter on the 1F
Facilities information, events information, and announcement for missing kids etc., please feel free to contact us when you have any questions.
Wheelchairs Rental service
Rental wheelchairs service are available on the 1F Information Counter.
Customers with babies or kids
Our facility is babies friendly.
Strollers Rental Service
Strollers Rental Service is available on the 1F Information Counter and the 3F Connecting Passage.
Seats for changing diapers
Are setting on the 1F, 2F, 3F, 5F and 7F Women's Toilet
3F Babies Resting Room
There are sinks, milk formula water-heater, beast-feeding room, beds for changing diapers, and vending machine in the room.
Muli-purpose Toilet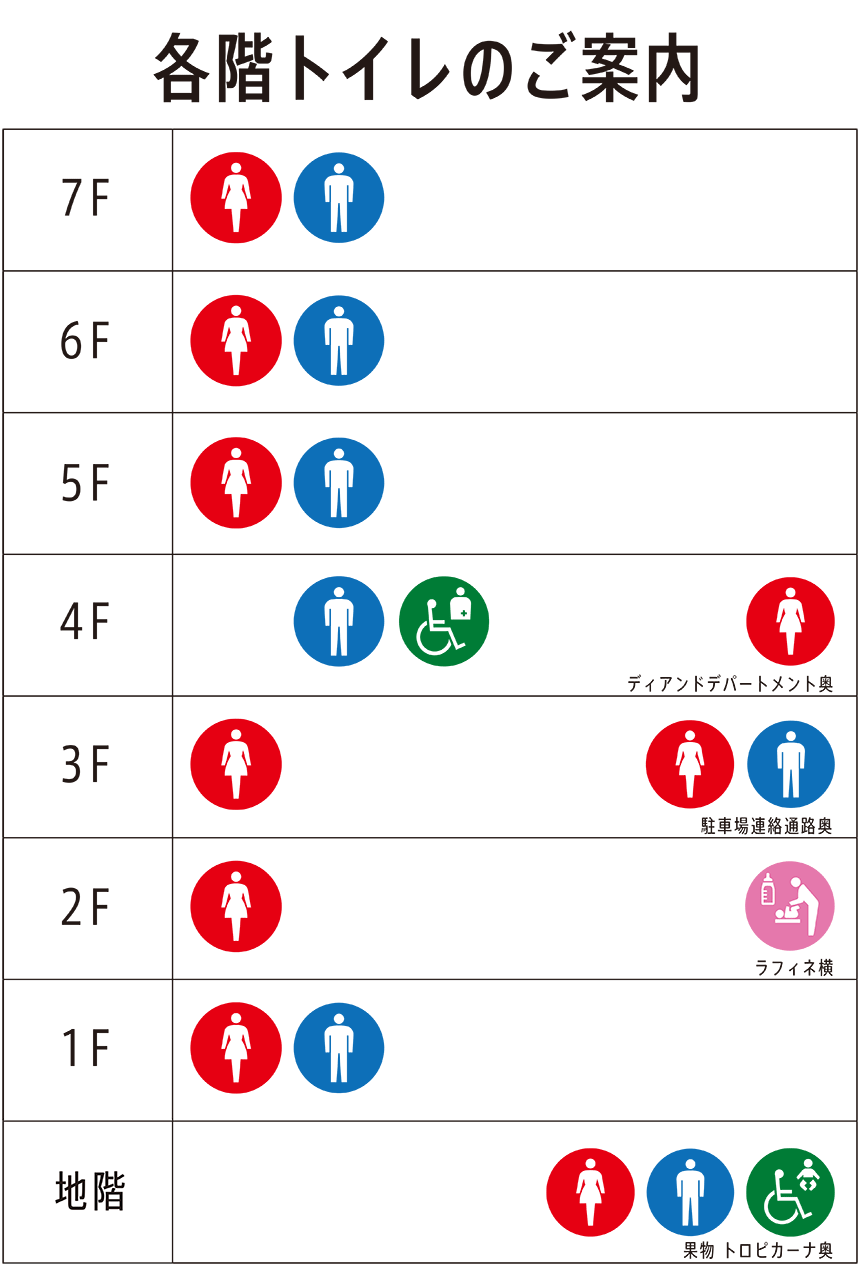 Muli-purpose Toilet...4F
Wheelchair-Accessible toilet...U1 & 4F (with universal-seats)
Power Room
Powder rooms with chairs are available on the 2F, 4F, 6F Women's Toilet.
Service Dogs
Guide dogs, hearing guide dogs, service dogs are accepted in the entire building that accompany their owners.
Installation of AED
AED (automated external defibrillators) is equipped in our facilities. Please contact a nearby staff in emergency.
Coin Lockers
Coin lockers are available on the 1F, and the refrigerated coin lockers are on U1
Please use this service when you have a lot of luggage.
Public Telephone
One at the 1F north exit, and another one at the south exit.
ID photo machine
Along the outer wall of the 1F South Exit (the street next to supermarket Haruta)
Smoking Area
Please smoking at the area in 7F roof garden Sora-niwa.
Free Wi-Fi
Free Wi-Fi is available in Maruya-Gardens.
UnionPay
UnionPay is accepted in Maruya-Gardens.
*Unavailable for some shops